Do you have excess caps or closures taking up too much space? Call 1-800-SURPLUS where a Surplus Specialist will help move them out of your warehouse. The four photos show items that had become surplus packaging or excess inventory for various companies.  Rather than discard them, McKernan Packaging Clearing House was able to pay for these items plus the cost of freight to move them out of each company's warehouse to the McKernan Warehouse.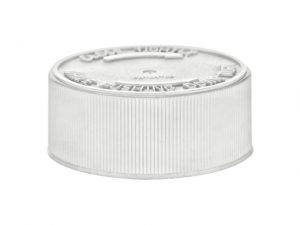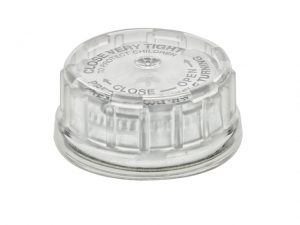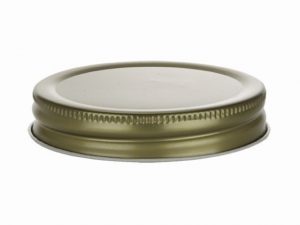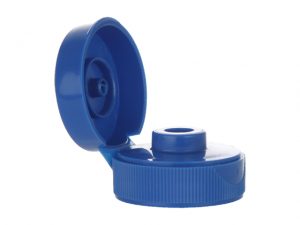 These items represent the diverse, but high-quality, types of caps and closures McKernan often buys.  We were able to purchase over 979,000 of the white child resistant closures, over 216,000 of the natural/metal child resistant closures, over 346,000 of the gold metal caps, and over 200,000 of the blue snap-top caps.  That's over 1.7 million pieces of packaging that we repurposed back into the market. Think of all the warehouse space that was cleared!
McKernan helped these companies recover warehouse space. Not only that, but we helped them recoup at least some of their investment and kept these packaging components were kept out of the landfill. This is just one of the many everyday examples of how McKernan Precycles packaging components!  McKernan PRECYCLING®, which is pre-consumer recycling, buys unused, unbranded excess/surplus inventory.  Plus, McKernan pays for the freight to move it out of your warehouses, saving even more. McKernan is an environmentally responsible and smart solution to scrapping or traditional recycling.
For over 60 years, McKernan Packaging Clearing House has helped businesses recoup their costs associated with surplus inventory by purchasing unused and unbranded packaging components.
In addition to excess caps, McKernan can offer you cash for your unbranded/unused, surplus packaging such as:
Plastic Bottles • Metal Bottles • Glass Bottles • Jars • Tubes • Aerosol Cans • Caps • Container Lids • Continuous Thread Caps • Dispensing Caps • Metal Caps • Overcaps • Sprayers • Crimp Sprayers • Fine Mist Sprayers • Garden Sprayers • Regular Mist Sprayers • Triggers • Pumps • Tins and so much more!
The process is simple you can receive an offer within 24 hours after receiving your samples.
When you need to clear inventory, call McKernan at 1-800-SURPLUS. We will pay cash for your surplus inventory. Plus, when you accept our offer, we will coordinate the shipping and pay all freight costs to move them out of your warehouse!